What they say
"Open your ears, and just let what's offered come over you, which is a lot, from the gorgeous voice of Deborah Carter to the inventive arrangements. A very special CD!"
Aad van Nieuwkerk, VPRO Radio
"The refined string arrangements put the performance of the singer in a new and surprising framework….Each of the ingenious compositions reflects his specific intention. This allows for none of the pieces to sound alike….the beautifully intertwined traditions of classical music and modal jazz reveal an honest independence, an uncomplicated one. It's one that brings back the essence of music to that singular, always predominant aspect: emotion." 
Rinus van der Heijden, JazzNu.nl
"The sounds of vibraphone and guitar, together with the string quartet, create a unique musical idiom. The refined arrangements of Mark Zandveld are tasteful and the compositions authentic. After hearing it, the listener wonders in pleasant amazement what to call this music"
NTB magazine

"jazz and classical music blend seamlessly into one another"
"beautiful, multifaceted compositions"
Hans Invernizzi, Jazzflits magazine
What
Zandzemble is a project of composer Mark Zandveld, in which he combines a string quartet with jazz musicians in an ensemble that seeks to integrate qualities of both the (mostly) written contemporary "classical" and the (mostly) improvised "jazz" idioms. The ten pieces on the CD vary greatly in character and during each the roles of each instrument change constantly: vibraphone, guitar and bass might add color and bottom to the interweaving counterpoint of the string quartet or improvise, vocal scats can be heard being invented over rhythmic string lines, the vibraphonist drops his mallets to play hand drums, the bass solos over a bed of strings or doubles a vocal bebop melody, string players solo over bass and snare drum, or everybody joins in on chromatically moving patterns over a latin 6/4 rhythm. All this stays in the melodic realm, rich in harmony – we're not afraid of beauty.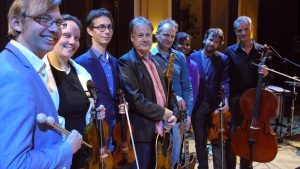 Who
Mark composes all the music and is the bassist. Vocalist Deborah J. Carter writes, speaks, scats and sings lyrics to five of the ten pieces. It takes a creative, agile and well-accomplished singer/writer to pull that off, since the material was created without any consideration for vocalists! She also adds her wordless voice to We R D Minority. Vibraphonist/percussionist Gunnar Graafmans and guitarist Jeen Rabs have been steady members of Mark's contemporary jazz quartet Zandscape and seamlessly slid into the Zandzemble project.
The string players you hear on the album are: Mirco Wessoly – 1st violin, Aili Deiwiks – 2nd violin, Yanna Pelser – viola, and Veit Steinmann – cello.
In the video you hear Veit Steinmann – cello, and members of string quartet Quinetique: Vera van der Bie – 1st violin, Peter Grond 2nd violin and Jur de Vries – Adriaan Breunis – viola.
For Whom
Zandzemble's music probably appeals to listeners not too concerned with boundaries between musical styles or with continuing traditions, with an adventurous taste for beauty regardless where it comes from. We hope that's you!
Possibly With
Part of the Zandzemble concept is the idea of being open to collaborations with different string quartets/players anywhere. We'd love to hear from interested musicians!
Communicate
We'd be happy to connect with you! If you want to stay up to date with the Zandzemble project, leave a comment, order a CD, write a review, check about concerts, or discuss collaborations: click on the Facebook, Twitter or LinkedIn icons on this page.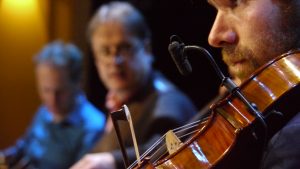 When
Februari 5th 2016 20:15 – first try-out at De Regentenkamer, The Hague, NL
http://regentenkamer.nl
September 30th 2016 – Official release date

November 22nd, 22:30- live on classical radio channel, Radio 4



Links
Zandscape
Mark Zandveld
Deborah J. Carter
Contact:
JoyFelt productions
zandveld@xs4all.nl
Phone +31206310638
Mobile +31655784771